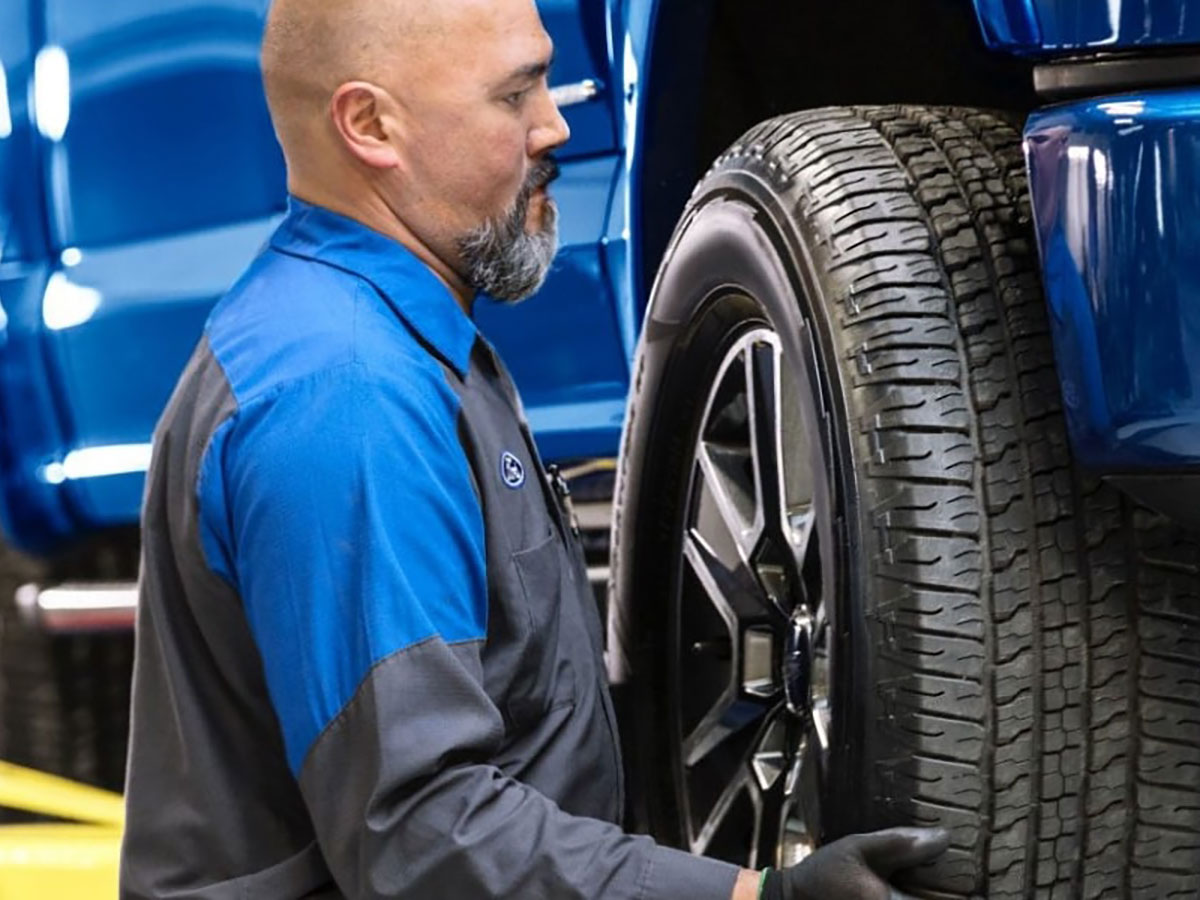 New Tires for Sales
Tires wear out over time, and your driving habits can make that happen faster or slower. When it is time to change your tires, bring your car to Skyline Ford in Marion County. We also serve Keizer, Albany, Silverton, and Independence, OR, with three locations easy to access. Changing your tires is a relatively simple matter of putting new ones on but your Ford dealership knows best what kind of tires your Ford needs. Most tire experts recommend changing your tires when the tread gets to one-eighth of an inch deep. The tread gives you traction on the road and helps push away rain to keep you from sliding as your drive on a wet highway.
Installing New Tires
There is one size that is best for your car, but there are a lot of options when it comes to tires. Tires come with a mileage rating, which means how long they should last. There are 40,000-mile tires, 80,000-mile tires and so forth. The price goes up as the mileage goes up.
The mileage ratings are just guesses however as your driving habits and conditions play a big role in how long your tires will last.  It is also important to keep your tires inflated to the right level. Our certified technicians use genuine OEM parts as well. While you are getting your tires changed it is a good idea to get the alignment checked as well, as this can also affect the life of your tires and how well your car will drive.
If You Don't Take Care of Your Tires There are Consequences
Failing to take care of your tires, and failing to replace them when needed is a matter of safety. You could have a flat tire, and that could be the least of your worries with bad tires. Bald tires make your car harder to control and it can slide easier on wet roads. You could have a serious accident if your tires do not have enough tread to grip the road. You could have trouble keeping the car on the road, or not be able to stop fast enough and hit another car. You also risk having a blowout if you drive on tires that are too worn.
Service Hours
Monday

7:00 AM - 6:00 PM

Tuesday

7:00 AM - 6:00 PM

Wednesday

7:00 AM - 6:00 PM

Thursday

7:00 AM - 6:00 PM

Friday

7:00 AM - 6:00 PM

Saturday

8:00 AM - 5:00 PM

Sunday

Closed
Complimentary Service Amenities:
Gourmet Coffee

Shuttle Service
Ford Certified Technicians
Comfortable Customer Lounge
Friendly & Knowledgable Advisors
Vending Machines
Magazines
WiFi
HD TVs

Skyline Ford Auto Service Center
For the best tire service bring your car to Skyline Ford in Salem, OR. We have three convenient locations and serve Keizer, Albany, Silverton, and Independence, OR as well. Getting your tires changed does not take a long time. You may wait in our comfortable waiting area and enjoy an HD TV, free wifi, the latest newspapers, and magazines as well as some gourmet coffee and snacks.
Stop by or call today to schedule world-class auto service!